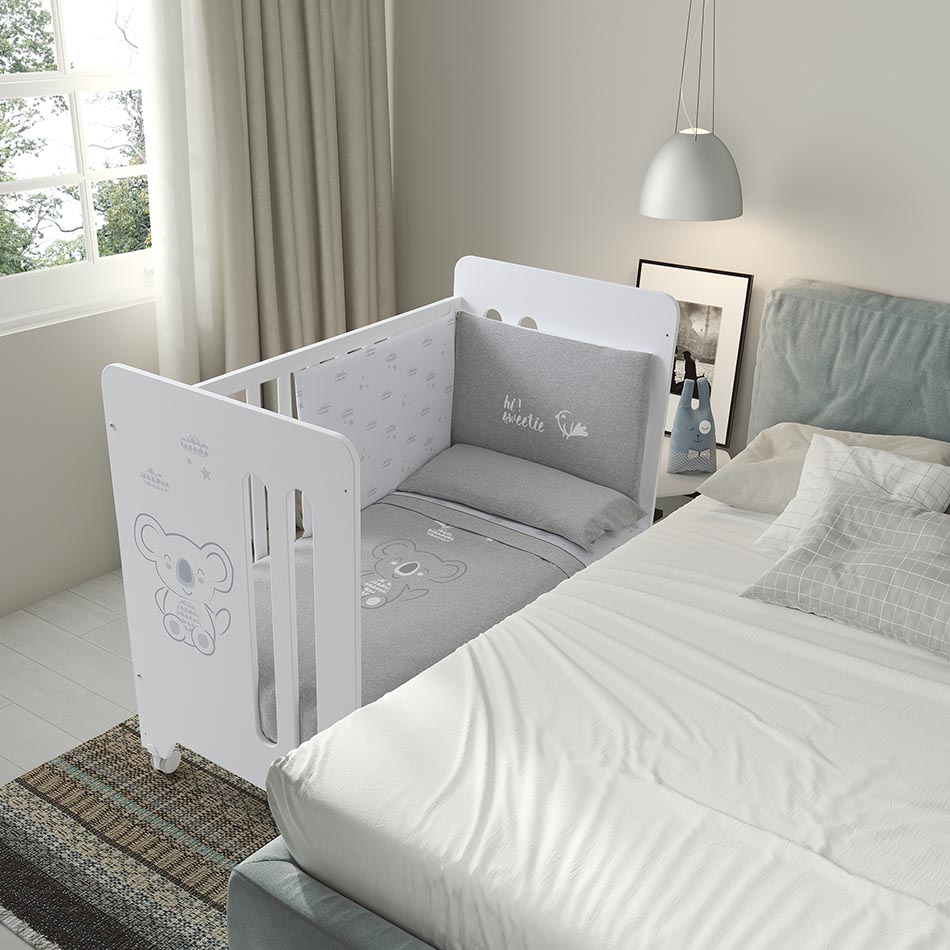 The Micuna Koala cot has an adorable design that you will fall in love with. This cot can be converted into a co-sleeping cot, a bed and a desk with the optional Micuna accessories. Combine it with the matching bathtub or bedding.
This cot is designed and manufactured in Spain.
Point of interest:
Our minicot is made of beech wood, with water-based paints and non-toxic varnishes. All our wood comes from sustainably managed forests, and we develop our designs, production and distribution under the ecodesign premise. We have a strong commitment to green manufacturing.
KOALA COT
External dimensions: Height 100 cm / Width 65.5 cm / Depth 120 cm
Internal dimensions: Length 117 cm / Width 59.5 cm
Safety Certificate: European
European approval: UNE-EN 716-1/2:2008 (+A1:2013)
Material: Beech – Lacquered MDF
Colour: White
Features:
– 3 bed base positions to make it easy for your baby to rest
– Movable side for better access to the inside of the cot
– Includes 4 wheels, 2 of which have brakes for added safety
Optional:
– CP-949 luxe drawer
– CP-1688 rocker drawer
– CP-744 cot changing table
– CP-1775 relax kit
– CP-1774 Duo Kit (twins)
– CP-1828 Be2in Wood
– CP-1839 Desk kit
– MONT-1863 Montessori cot barrier
– Several Micuna high-quality cot mattresses 117 x 57 cm
– Matching KOALA bedding available
– CH-570 pillow
Recommendations:
To clean the cot, we recommend wiping it with a dry cloth to remove dust, or with a cloth that you have slightly dampened with water
We do not recommend using abrasive products.